Product was successfully added to your shopping cart.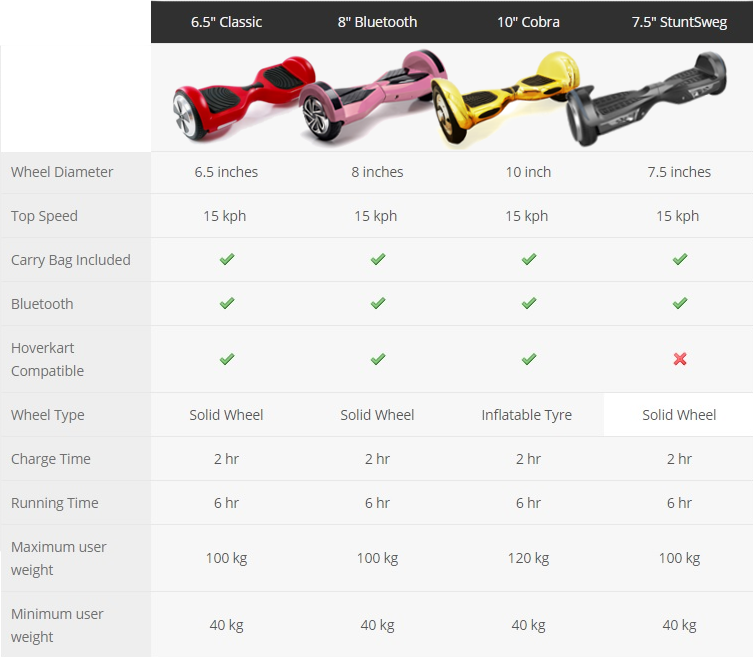 Which Hoverboard?
There are so many hoverboards sizes and designs of hoverboard to choose from so to help you choose please read the pointers below or call us to discuss on 0800 652 9992 or 01342 833464:
Bluefin 6.5" Classic
Our most popular swegway! This is a great all round board which offers excellent value for money. Perfect for indoor and outdoor use on flat surfaces and suitable for all users over 8 years old.
Bluefin 8" Bluetooth
A bigger wheel diameter makes this Bluefin Hoverboard perfect for outdoor use on rougher terrain whilst still being as versatile as the classic 6.5" model.
Bluefin 10" Cobra
The ultimate pro board with 10" inflatable wheels. Go anywhere with the Bluefin 10" Cobra, perfect for rough terrain and more intensive outdoor use.
Bluefin 7.5" StuntSweg
The latest swegway technology with reinforced chassis design and stunt pegs to enable you to perform stunts and tricks impossible on any other swegway.